Santa picture update: We are currently working on the sibling list from the forms that were turned in. Again, all prek-4th grade students will take individual Santa pictures tomorrow. These are professional photos. All ordering will be completed online. Please visit cowenstudiosofshreveport.got photo.com and use the code CSSANTA to see their pricing. Payment will be required when you place your order after you view your proofs online. All photos ordered will be delivered to the address you submit when your payment is made.

SANTA Pictures this Thursday! Prek - 4th grade will ALL take individual pictures with Santa. You do not have to return a form for individual pictures. FORMS are only needed if you are requesting sibling photos. You will list names and grades on the form that are to be in the sibling picture. If the sibling form for a group picture is not turned in by tomorrow morning, we will not be able to fulfill the group request. All students will be given a paper with their login code after their picture is taken. Parents will use this code to view their child's pictures online and place orders. Orders will be mailed to your home. I will send out a "fake" account code tomorrow that can be used to view pricing and sample pictures. Family photos can be scheduled for Thursday between 3:30-6:00 pm. You must email
bursonc@parkerschapelschool.com
before 3:00 pm tomorrow to schedule a family time for Thursday afternoon / evening.

Calling all PC Basketball fans...the 2023 Parkers Chapel Holiday Classic "Jammin at the Jack" will be held December 28th - 30th. T-Shirt and bracelets are going on Pre-sale starting today. You can order using the form at
https://5il.co/2ada0
. Forms and money can be turned into the the high school office or to any PC Coach. Stay tuned for more updates! #PCholidayclassic #jamminatthejack #pcproud

Parkers Chapel Parents & Community: The 2nd grade needs your help for their "Hot Cocoa Christmas Party". They are asking for our PC family and friends to donate any good, 8-12oz, Christmas or Winter mugs that you don't use anymore, or any that you are willing to part with. Every child will select a donated mug to use for the day and then they will get to take their mug home at the end of the day. The kids will love this! We will need them before Dec. 15. Thanks so much for your help❤️❤️❤️❤️❤️🎄🎄🎄!!! If donating, please drop off at the elementary office or have students take them to the 2nd grade teachers. Any extra mugs donated will be delivered to nursing homes in the community.

Santa picture notes went home today in backpacks. The note is front & back. Sibling pictures must have the note returned so we can schedule those. If a student in grades 5-12 wants a picture made, the parent will need to email Mrs. Burson at
bursonc@parkerschapelschool.com
. These will be packages similar to school pictures. Parents will have to use the QR code given to the student when the picture is made to view the pictures (should be 7 images) and place their online order. Pictures will be mailed to the home of the student. Anyone wanting to schedule a family photo shoot with Santa or anyone in the community wanting to schedule a time for a child that is not school age, will need to also email Mrs. Burson. Family and community photos will be scheduled 3:30-6:30. Please note this is the same day as the Christmas Parade. We did not have an option of another date. All students in Prek - 4th grade will have individual pictures made with no obligation to purchase.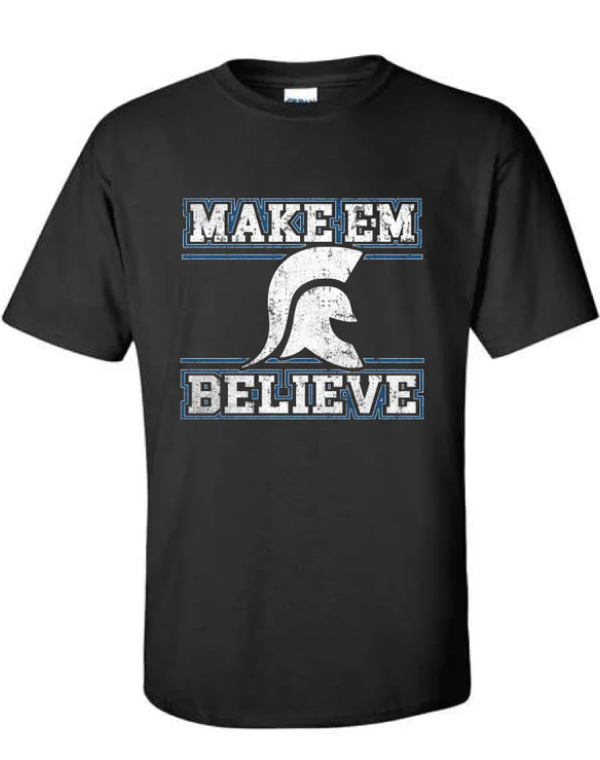 Educators Rise & Extreme held a Canned Food Drive Nov. 1- 15 and collected over 700 Food items. The Food items were donated to the Salvation Army Soup Kitchen. The classes that collected the most Canned Goods are getting a Spudnut Party. The winners were Elementary Haley Ockerman 56 Items Middle School Rachael Hardy 45 Items High School Edward Newton 170 items Educators Rise & Extreme Youth would like to Thank our Principal Doug Smith and everyone who participated in the Canned Food Drive.


Parkers Chapel will have early dismissal on Friday, November 17th at 1:30 pm to begin our Thanksgiving Break. School will resume on Monday, November 27th. Have a great Thanksgiving Break!


Elem- We will have early dismissal next Friday to begin our Thanksgiving Break. Prek will load 12:15-12:45. Elem k-4 will load 1:00-1:20. Buses will load at 1:30. If you have students with older siblings, please arrive in the car line closer to 1:20 so you will not have to wait long for siblings to exit the building.

Elem: This is a reminder that the Fall Festival is tomorrow. If you are planning for your child to purchase concessions or candy, please send their money in an envelope with their name, grade, teacher's name & amount included written on the envelope. Thank you. The PTO has worked very hard to make tomorrow a fun fun day!

This is a reminder that the third grade family breakfast is this morning from 8:15-9:00. We are looking forward to spending time with your family!

Educators Rise and eXtreme Drugfree Youth are sponsoring a Canned Food Drive Contest for K-12th. The class which brings in the most cans by November 16 will win a Spudnut Party! We will have a K - 4, 5 - 8, and 9 - 12th grade winner. All cans donated will go to the Salvation Army Soup Kitchen.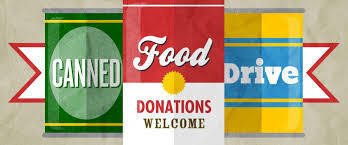 Picture Retakes will be Wednesday, November 1st. You may order pictures online by visiting lifetouch.com and entering Picture Day ID: EVTSXQ37Q. This is for anyone who missed fall picture day, and for any retakes needed.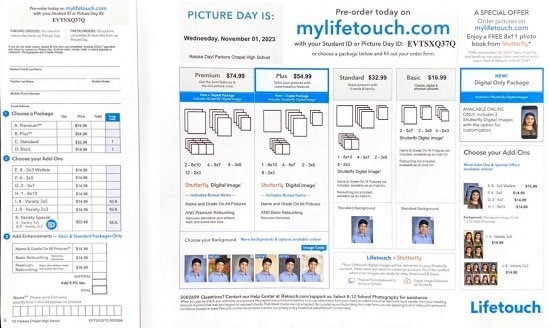 Parkers Chapel School District is excited to announce that they have received a $2,500 grant from Aerojet Rocketdyne to go toward our STEM programs to buy materials and equipment. #pcproud #PCSTEM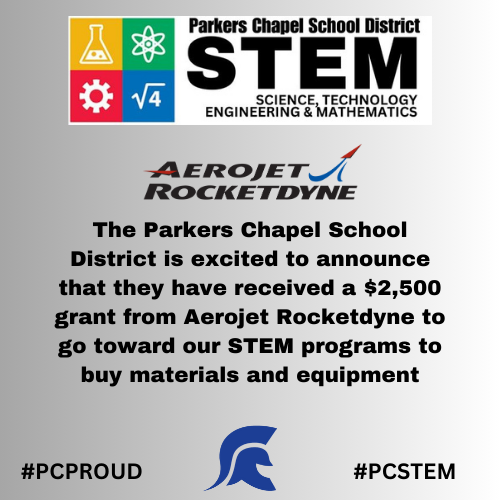 Elementary: Remember to bring one or two bags of candy on Monday so we can Trick or Treat down the hallways on Tuesday. Fourth grade will have a field trip Tuesday and will hand out candy to classmates on the trip. Weather Update: Rain expected Monday & then a big cold front will move in. Get out the coats & jackets (temps in 30's). Make sure names are written on tags. Dress in layers for extreme cold in AM & then slightly warmer temperatures in the PM this week.

Elem: Tomorrow is wear red day for our staff and students to show our support of Red Ribbon Week and our commitment to be drug free! See you all tomorrow in your RED!!!

This is a reminder that we will host the 4th Grade Family Breakfast tomorrow morning. Notes were sent home to sign up for this event. We will begin at 8:15 a.m. and end at approximately 9:00 a.m.

The Parkers Chapel School District is excited to announce that they have received a $5,000 grant from Lockheed Martin to go toward our STEM Engineering and Gateway programs to help fund family STEM nights and help our program continue to expand.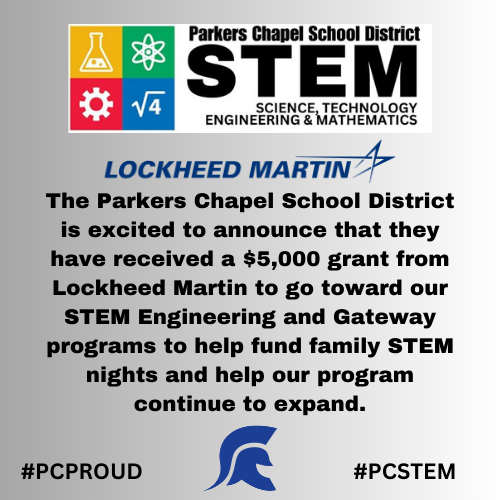 Come out and support our annual Junior Class prom fundraiser as we present the Parkers Chapel Chili Supper & BINGO on Saturday, October 28th. Chili Service will begin at 4pm in the cafeteria and BINGO will kick off at 6pm in the high school gym. We can't wait to see you there! We have some great prizes up for grabs this year and are so excited to see who gets to take them home!