EDIT MAIN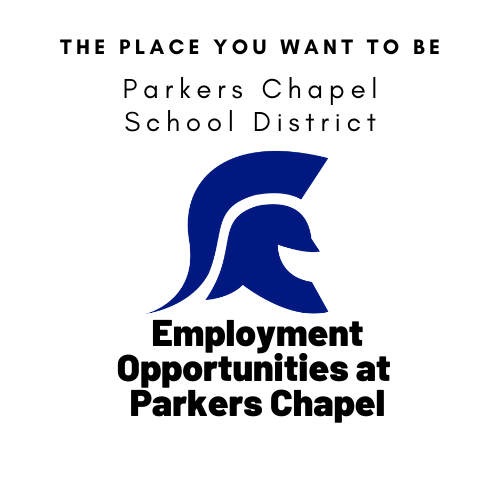 Employment Opportunities for the 2021-2022 School Year
This application is a fillable PDF or can be printed and filled out.
HIGH SCHOOL (7-12)
Parkers Chapel is looking for an assistant football coach/spring sport TBD. Social Studies is preferred but all areas will be considered. Interested applicants should fill out a PCSD employment application and can contact Head Football Coach Elliot Jacobs at jacobse@parkerschapelschool.com or (870) 351-6734.
Parkers Chapel High School is currently taking applications for Head Band Director. Please contact Doug Smith, Principal with any questions. Please fill out an application on our district website and submit with a resume to smithd@parkerschapelschool.com.
Parkers Chapel School District is accepting applications for a full-time Math Interventionist position. Middle School Math certification and experience as a math teacher and/or interventionist is required. (This is a year to year position; it will be evaluated for funding at the conclusion of each school year.) Interested parties should fill out a PCSD employment application and submit it along with a resume to Doug Smith, High School Principal. (smithd@parkerschapelschool.com)
Parkers Chapel School District is accepting applications for a full-time Language Arts Interventionist position. Middle School Language Arts certification and experience as a Language Arts teacher and/or interventionist is required. (This is a year to year position; it will be evaluated for funding at the conclusion of each school year.) Interested parties should fill out a PCSD employment application and submit it along with a resume to Doug Smith, High School Principal. (smithd@parkerschapelschool.com)
Parkers Chapel School District is accepting applications for a full-time classified position. Preferred qualifications include a desire to work with junior high students in a classroom environment. (This is a year to year position; it will be evaluated for funding at the conclusion of each school year.)
Interested parties should fill out a PCSD employment application and submit it along with a resume to Doug Smith, High School Principal. (smithd@parkerschapelschool.com)